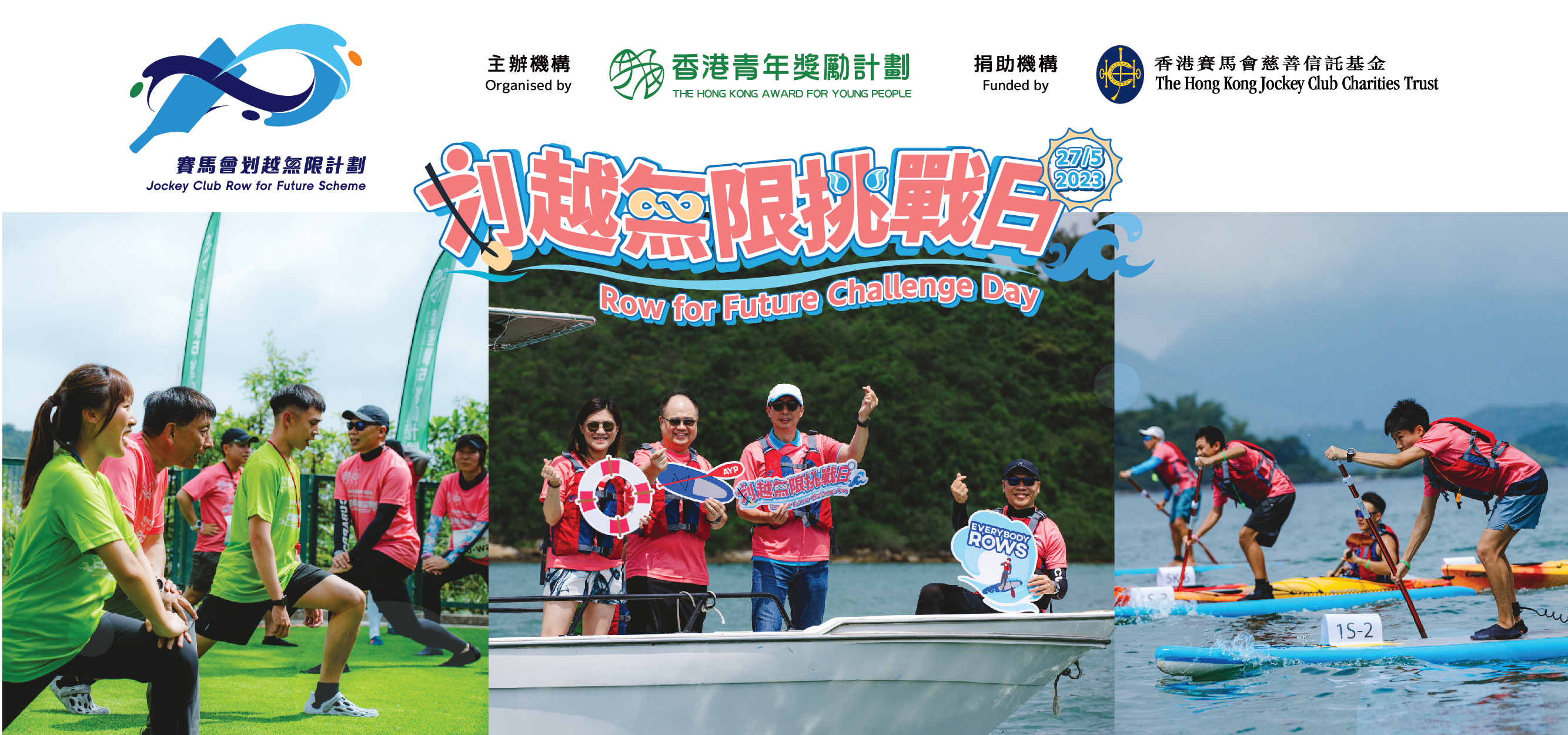 【划越無限挑戰日圓滿結束!】
由香港賽馬會慈善信託基金捐助,AYP主辦的划越無限挑戰日於5月27日順利舉行!我們很高興邀請到理事會義務司庫及營地管理委員會主席馬清揚博士、理事會委員及宣傳及推廣委員會主席楊燕芝女士、理事會委員郭振文先生、陳龍盛先生連同香港教育大學健康與體育學系高級講師及獎勵計劃知友雷雄德博士一起到AYP賽馬會野外鍛鍊中心為我們超過140位參賽者打氣。
雷博士亦指導兩位參與整個划越無限計劃的學員帶領參賽者熱身。另外,前賽艇運動員李婉賢亦與我們學員交流心得,分享帶領水上活動和參與賽艇比賽的經驗。無論是獨木舟、直立板,抑或是平板賽艇的比賽,都很高興見到參賽者全力以赴,於接力比賽中更體現團隊精神。AYP再次恭賀當日比賽的得獎者,請留意我們的資訊,期待下次活動再見!
Funded by the Hong Kong Jockey Club Charities Trust, organised by AYP, Row for Future Challenge Day was held successfully on 27 May. We were glad to have Dr. Philip MA Ching Yeung, Award Council Honorary Treasurer & Chairman of Camp Management Committee, Ms. Jennifer YEUNG Yin Chi, Award Council Member & Chairman of Publicity and Promotion Committee, Mr. KWOK Chun Man and Mr. Eddy CHEN Lung Shing, Award Council Members and Dr. LOUIE Hung Tak, Lobo, Senior Lecturer I, Department of Health and Physical Education & Friends of AYP, to come and support over 140 participants at AYP Jockey Club Expeditions Centre.
Dr. Lobo also guided a warm-up session with two mentees from Row For Future Scheme. It was great to see participants giving their all in kayaking, SUP and board rowing competitions. The relay races really showcased the spirit of teamwork. AYP once again congratulates the winners of the competition. Stay tuned for our future events. We look forward to seeing you all again next time!
精彩回顧 / Wonderful moments:
https://photos.app.goo.gl/fSuEngB5NrEn9QFH6

【BronzeGain 銅章級活動現正接受報名】
AYP將於2023年7月至2024年1月舉辦「BronzeGain」銅章級活動。活動包括社會服務、技能學習、運動項目和遠足挑戰,讓大家一氣呵成地完成銅章級4科的要求。參加者更可藉此獲得「圖出山野慈善賽2024」的參賽名額,並於圖出山野比賽後參與銅章嘉許禮和賽後嘉年華。機會難得,請立刻報名!
AYP will organise 'BronzeGain' from July 2023 to January 2024. Participants can achieve Bronze Level by fulfilling the requirements of Service, Skills, Adventurous Journey, and Physical Recreation sessions in this programme. Participants will also be qualified for Rogaine 2024, participating in Bronze Award Presentation and after-race carnival in Rogaine. Register now!
網上表格報名 / Online Registration Form:
https://forms.gle/3mhJG6pSdd3S3gG9A

【航行出狀元 津港交流團2023 送行禮順利舉行】
由余皓媛青年發展基金贊助,AYP、中國民航大學及香港國際航空學院合辦的「航行出狀元 津港交流團2023」送行禮於 2023 年 6 月 30 日(星期五)假香港國際航空學院順利舉行。AYP很榮幸邀請到民政及青年事務局局長麥美娟女士,SBS, JP擔任主禮嘉賓,連同獎勵計劃理事會主席郭永亮先生,JP、「余皓媛青年發展基金」贊助人及獎勵計劃理事會委員余皓媛女士和香港國際航空學院校長李天柱先生,SBS到場為兩地參加者在開展天津之旅前打氣。
來自中港兩地的參加者將進行為期 9 天的津港交流團,親身考察津港兩地航空設施、參與航空相關課程及津港交流活動。參加者已順利完成在港交流的活動,包括深入機場禁區停機坪參觀和體驗飛行模擬器,及到香港理工大學參與航空課程,相信對本港航空業的運作及挑戰有更深入的認識。AYP祝願各位參加者接下來在天津的旅程一切順利,期待各位同學繼續探索自己的潛能,並向理想進發!
Sponsored by Grace Yu Ho Wun Youth Development Fund, AYP co-organised the 'Fly My Way Exchange Programme 2023' with Civil Aviation University of China and the Hong Kong International Aviation Academy. The send-off ceremony was successfully held at Hong Kong International Aviation Academy on 30 June. AYP was honoured to have Miss Alice Mak Mei Kuen, SBS, JP, Secretary for Home and Youth Affairs to be our Guest of Honour. Mr. Andy Kwok Wing Leung, JP, Chairman of Award Council, Ms. Grace Yu Ho Wun, sponsor of Grace Yu Ho Wun Youth Development Fund and Award Council member, and Mr Simon Li Tin Chui, SBS, Principal of the Hong Kong International Aviation Academy came and encouraged our participants before their trip to Tianjin.
This year, participants from mainland China and Hong Kong will participate in a 9-day exchange programme to visit the aviation facilities in Tianjin and Hong Kong for aviation-related courses and exchange activities. The participants successfully completed their exchange activities in Hong Kong, including visits to the airport restricted area apron and experiencing the flight simulators, as well as participating in aviation courses at the Hong Kong Polytechnic University. We believe that this exchange programme provides a valuable opportunity for the participants to gain a deeper understanding of the operations and challenges of the aviation industry in both regions. AYP wishes all the participants a smooth journey ahead in Tianjin and encourages them to seize the opportunity to continue exploring their potentials and pursuing their ideals.