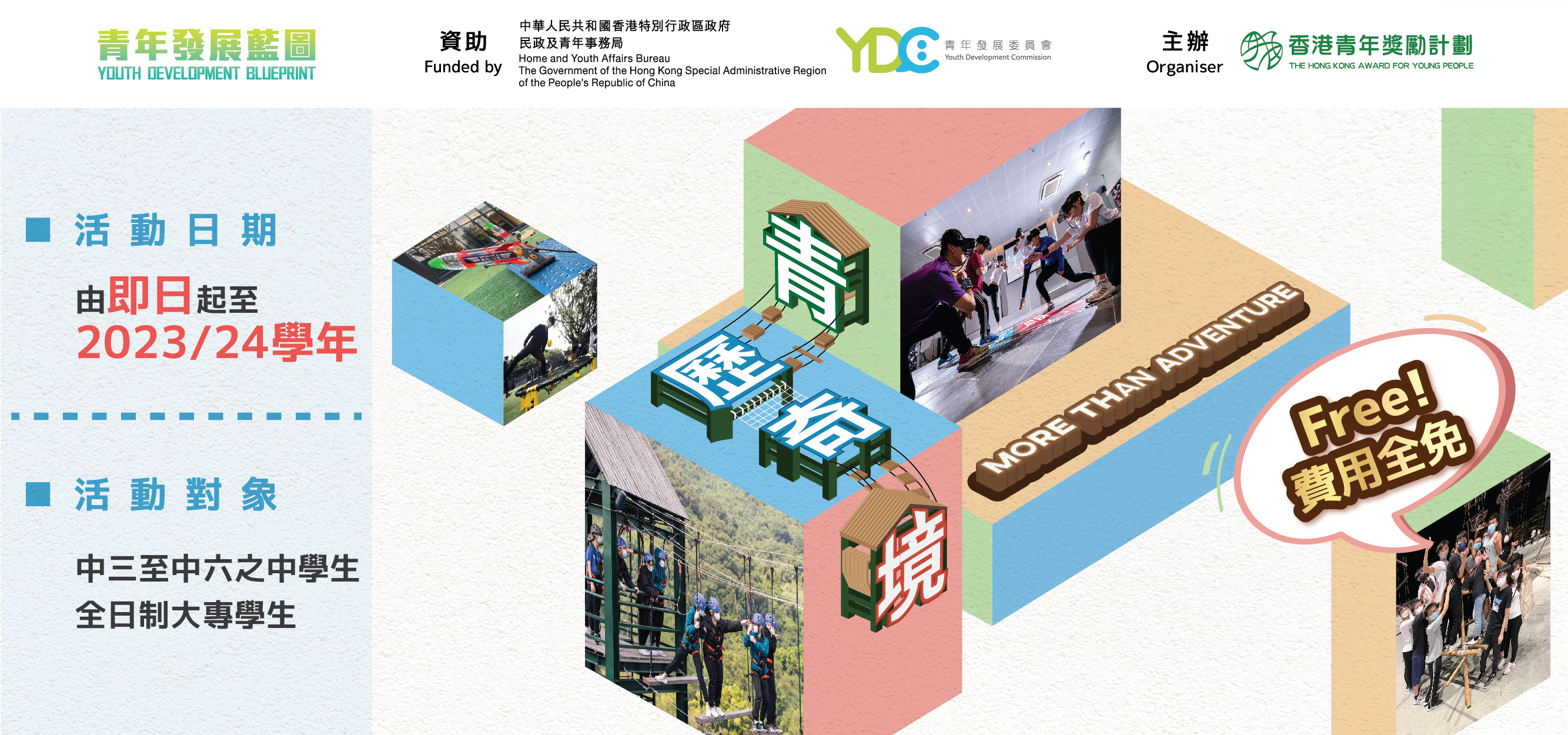 青年歷奇訓練活動資助計劃 — 「青歷奇境」正式啟動!
鳴謝民政及青年事務局和青年發展委員會撥款資助,AYP已於7月起正式推出全新的青年歷奇訓練活動資助計劃 — 「青歷奇境」。計劃期望配合「青年發展藍圖」的方向,通過體驗不同歷奇訓練活動及經由導師循序漸進地帶領,幫助青年人增強抗逆力、培養團體意識及紀律精神、開拓視野、提升創造力,達致正面的自我發展。
只要參加者為中三至中六的學生,或者年齡介乎14-18歲的香港居民,或25歲或以下的全日制大專生,就可以免費參與歷奇訓練。今次計劃除了高低結構歷奇訓練活動之外,亦涵蓋新興運動、環境保育、創新科技、義工服務等多元化領域,令青年人有更全面的個人發展。
訓練活動類型包括日營及宿營,營期有一日日營至四日三夜宿營可供選擇。如學校或機構欲了解更多活動詳情,請查詢是次計劃專頁,或直接填寫及遞交網上申請表報名 (https://forms.gle/PeS76jHRNAa1fR628),之後便會有專人聯絡各位申請人!
Funded by the Home and Youth Affairs Bureau and the Youth Development Commission, AYP is organising "More Than Adventure" programme under the "Funding Scheme for Youth Adventure Training Activities" since July.
In line with the "Youth Development Blueprint," the programme targets to provide adventure training activities of quality and scale for young people in a structured manner. Through taking part in adventure training and a series of experiential activities under the progressive guidance and involvement of instructors, the programme aims to improve young people's physical and mental well-being, and foster their positive thinking, resilience, sense of discipline and team spirit.
For more information, please visit our programme page or simply submit our online application form (https://forms.gle/PeS76jHRNAa1fR628) and we will contact you soon!


「灣仔青年定向比賽·今昔猜程尋」8月4日截止報名
AYP將會支持灣仔區青年發展及公民教育委員會、灣仔青年Teen地及灣仔民政事務處於8月27日(星期日)舉行「灣仔青年定向比賽·今昔猜程尋」。這次定向比賽劃分初中、高中和青年組別,歡迎12至29歲青年們組隊參加城市定向,既可挑戰自己又能探索灣仔社區,發現另一面的灣仔。
活動費用全免,每組前十名更有豐富獎品。有興趣請於8月4日(星期五)或之前透過以下連結報名。
報名參加 / Registration:
https://forms.gle/1b5NH6EHVQ2cZX7RA
AYP is supporting the Wan Chai District Youth Development and Civic Education Committee, the Wan Chai TEEN Horizons and the Wan Chai District Office to organise "Explore Wan Chai • Youth Orienteering Competition" on August 27 (Sunday) in Wan Chai District. There are three categories (junior secondary, senior secondary, and youth) in this orienteering competition and we welcome young people aged between 12 and 29 to join in teams, challenging yourselves, exploring the community and discovering more about Wan Chai!
The event is free of charge, and the top ten teams in each category will receive generous awards! The registration deadline is on August 4 (Friday). For more information and registration, you may visit the link above.

「黃大仙民政事務處 飛繁任務-航天教育營 」圓滿結束!
由民政事務總署黃大仙民政事務處贊助,聯同AYP合辦的航天教育營於7月19日圓滿結束!在兩日一夜的航天教育營,一眾黃大仙區內中學生除了參觀李錦記了解航天餐品的發展歷程,還體驗了模擬太空任務、親手製作水火箭等精彩活動,相信他們對太空食品和航天科技有更深的認識。
在閉幕典禮上,感謝黃大仙民政事務專員黃智華先生,JP及香港青年獎勵計劃理事會副主席彭穎生先生,MH到場嘉許和頒發證書予各位參加者,他們的分享和鼓勵更是令參加者獲益良多。相信參加者必定以兩位嘉賓為榜樣,努力向目標進發,終能實現夢想!
Sponsored by the Wong Tai Sin District Office of the Home Affairs Department and co-organised with AYP, Mission S Education Camp was successfully held 19 July. During the 2-day-1-night camp, students from the Wong Tai Sin District not only visited Lee Kum Kee company to learn about the development of space food but also experienced a space mission simulation workshop and built water rockets. We believe they have a deeper understanding of space food and aerospace technology.
At the closing ceremony, Mr. Steve WONG Chi Wah, JP, District Officer (Wong Tai Sin), and Mr. Victor PANG Wing Seng, MH, Vice-Chairman of the Award Council, shared their experiences and encouraged students, which was very meaningful to them. We believe that students will be inspired by the two guests and continue to strive towards their goals, eventually achieving their dreams!